African Armadillo brass choker necklace pendant jnra5
$15.28
Description
Description
New Handmade African Brass Armadillo Pendant Necklace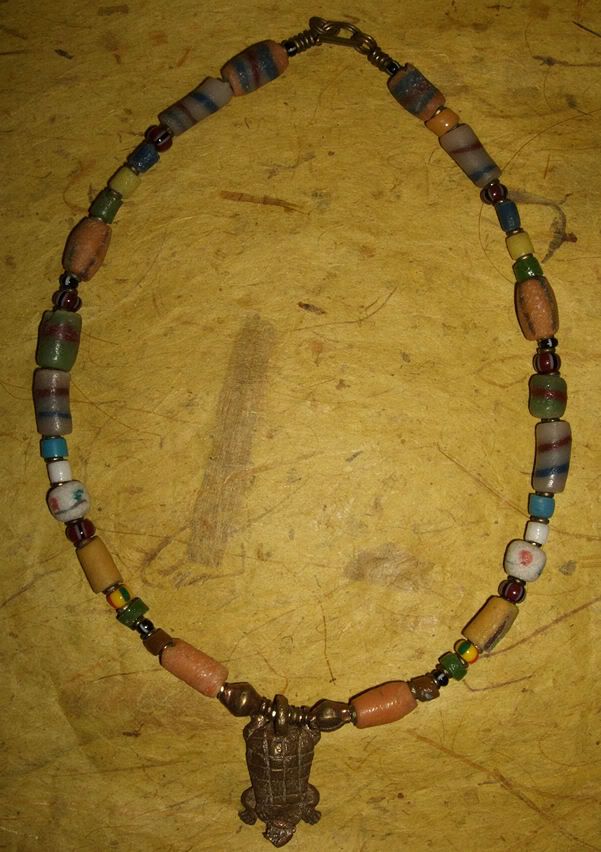 approximately 1.5 inches a side brass pendant with 18-21 inches total length of necklace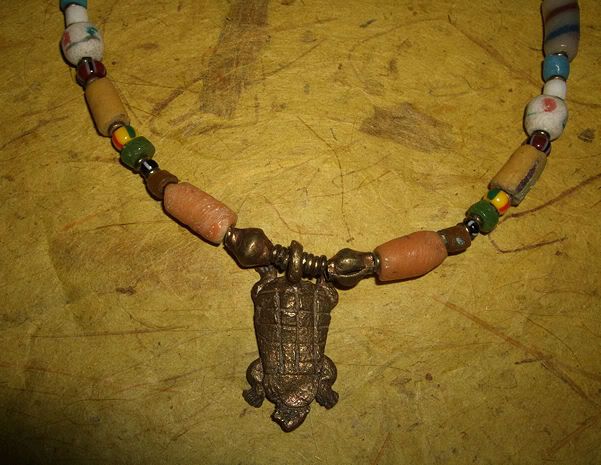 Adorn yourself in African art! A glorious pendant swings from a myriad of beads circling up to a hook closure. This necklace is hand crafted in Kenya by Paul Muragu. YOU RECEIVE THIS EXACT, UNIQUE NECKLACE! It is attention getting, glorious wearable art!
We are overstocked on these necklaces, so we are selling them BELOW OUR OWN COST. Therefore, they are NOT RETURNABLE as are our other items. However, the beads and pendant alone are worth more than the cost of the necklace, so you are receiving an amazing value on hand crafted art!
Its unique look comes from being hand made using the lost wax method. First, African artists shape a piece of wax to their desired design. Then, clay is placed around the wax figure and allowed to harden. The form is next heated, melting the wax, which runs out through straws which were carefully placed into the clay when still moist. When the mold is empty, molten brass is poured into the now vacant shape. Finally, the mold is broken open and any details are finished by the artisan. This is an extremely time-consuming effort, but it produces totally original figures in an authentically ancient medium. Please be sure to see our other brass jewelry and pieces, equally unique!
And for over 200 pieces of African created and African inspired jewelry from which to choose your new treasure, please view the entire collection!
This necklace and its beads and pendant are formed by hand of natural materials. It will show special variations and idiosyncracies which add to its value! Each bead, pendant, and combination is unique, so the MEASUREMENTS ARE AVERAGES of these types of chokers and their pendants.
Condition: New

Materials: Brass; coconut shell; bauxite; glass, other metals, other materials, cord or wire

Origin: Kenya

Dimensions: approximately 1.5 inches diameter brass pendant with about 18-21 inches total length of necklace
Terms Of Sale
Payment
We accept PayPal.
Shipping
Please see shipping calculator below for shipping charges for this item.
We always ship as soon as possible, usually within 3 business days of receipt of payment. During busy times, it may be up to 5 days. We charge the exact shipping costs. If shipping charges are computed incorrectly, we will either refund the difference (if it was an overcharge), or pay the difference ourselves (if it was an undercharge).
We pack carefully and professionally, using only new boxes and plenty of cushioning. One of our customers has referred to our technique as "bomb proof!"
Returns and Refunds
Returns are happily (okay, just politely) accepted. Please contact us first, so we know to look for it. Then repackage the item carefully, and ship it back in any way that is easiest for you. Once it arrives, we will inspect it, and if it is in original condition, we will then refund the price paid, minus shipping, in the same manner in which it was paid.
Please note that the item must get to us in original condition and within 14 days of purchase for us to be able to honor the refund policy!
Thank you for shopping Hand It To You!
---